16 January 2019
The 2017 IACC Meeting Room of the Future report was released this week, which outlines a range of insights and trends for the meeting industry at large, including:
How have the objectives and goals of meetings changed over time?

Is experience creation going to be more important when planning

meetings in the future?

What are the ideal physical aspects of meeting space and how have

they changed over time?

What will be the most critical technology needs over the next three to

five years
Click here to download the infographic or click on the thumbnail below.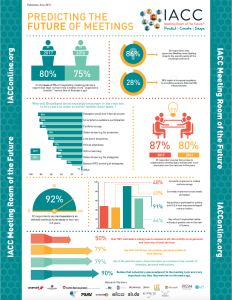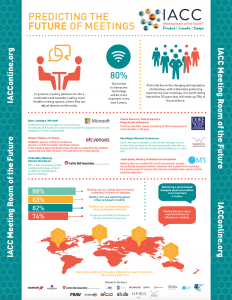 The data was compiled from more than 180 meeting planners in four different continents who work across corporate, association and government meetings and conferences.
Over the next few weeks in our blog, we'll dive deep into the IACC report and pull out some of the key insights and findings to help inform your organisation's meeting planning for the next 12-18 months.
This week, we're going to answer Part 1 of the report: How have meeting objectives changed in 2017?
Engagement, experiences and interactivity
The confluence of advancements in technology, demands of incoming generations, and tighter budgets across the industry are subtly shifting the objective and goals, as well as how they are achieved, in the meetings industry. This year meeting planners report that the objectives and goals are largely pointing towards delegate engagement, away from presentation and lecturing style meetings to interactive sessions to create memorable experiences.
The 2017 report found that in pursuit of creating memorable experiences, meeting planners are looking to create more personalised experiences for delegates by:
Heightening the importance of personal development objectives.

Integrating more interactive technology.

Carving out time for more networking and social opportunities.

Changing conference formats.
This view was supported by Carol Malinky, Event Dir. C.A. Malinky Communications & Events. "The objectives we plan today are truly focused on education, networking, creating opportunities for sponsors to obtain new business, and creating a more experiential/interactive memorable experience for the attendees. The meetings from 5 years ago were mostly about education and networking. As mentioned above, it is much, much more than that today," said Ms Malinky.
Adam Lanteigne, Sr. Product Marketing Manager from the Surface division at Microsoft, commented that trends indicate a need for less productivity and more creativity.
The report highlighted 5 key factors that influence how meeting objectives have changed in 2017.
1. Get personal
Content and education remain important objectives for meetings, but a key trend for 2017 is keeping it personal. That includes a focus on personal development, providing a personal experience, personal service and creating personalised content based on the preferences of delegates and attendees.
This trend is supported by the Incentive Research Foundation's Translating the Neuroscience of Behavioural Economics into Employee Engagement report, which found that emotional decision-making is a driving force for the increased focus on a delegate's personal and emotional connection with educational content to achieve personal development.
2. Stay ahead of the technology curve
The IACC report commented that in the next five years, nearly 20% of meeting planners expect increased pressure to stay ahead of the curve by integrating the latest, greatest technology.
Implementing new technology has always been an issue, but with tighter budgets and increasing demand, planners should ask what is the problem that needs to be solved and what is the need? Is it meaningful, beneficial and will it ultimately add value?
3. Keep delegates connected
With the ease of mobile technology and social media, many meeting planners have identified the importance of keeping delegates engaged and connected with each other during meetings.
Meeting planners are counteracting this by carving out more time for networking and using technology and strategic planning to foster collaboration and personal interaction between attendees.
This can be achieved prior to the meeting or event by creating gathering or co-working spaces and apps, to encourage communication and networking pre-event.
4. Think hybrid
Another growing trend is to incorporate live streaming into a traditional "physical" meeting; creating a hybrid of both. Innovative technology makes this possible and can provide a seamless experience for delegates attending physically or via a livestream.
In the case of Glisser Founder Michael Piddock, this "hybrid" approach, saved one of their big events. He said "We ran an event ourselves and, despite being overbooked, we lost 50% of attendees to the weather (a glorious sunny Thursday evening in London). However, we had 200 people on the livestream actively participating. It saved the day!"
5. Show me the ROI
Compared with five years ago, 28% of meeting planners indicated an increased emphasis on providing accurate financial ROI measurements and doing more with less budgets.
Mariella Irivarren Event Manager at BMO Financial Group comments, "It's all about the attendee experience and what they can remember and retain from the conference or event. For financial ROI, the budgets are tighter and we need to do more with less and find synergies and cost savings without compromising the quality of the event."
The trend to focus less on surveys and more on bottom-line impact was reiterated by Jessie States, MPI, who said "Meeting organisers eschew the use of once-popular surveys that primarily assessed whether attendees had a good time in exchange for a growing body of metrics that determine whether their events met the business objectives and impacted the bottom line."
Meeting planners are also becoming increasingly aware of delegate's time out of the office. 11% of meeting planners report that in the past five years, time management has become increasingly important. Similarly, 15% of meeting planners report that in the next five years, they anticipate more frequent, smaller, focused meetings to reduce time spent out of the office.
Stay tuned in coming weeks as we dissect the rest of the report!
Click here to learn more about Karstens high-tech and flexible meeting rooms.